Multi-operation robot for grapevine


---
Fig.1 shows a robot to work in vineyard (Kondo, 1995f). In open field, harvesting period is so short that a harvesting robot may not be efficient if it is not able to do other operation. To make working period of the robot longer, several end-effectors were developed (Kondo et al., 1996d, Monta et al., 1995a). This robot has a polar coordinate manipulator with five degrees of freedom. The manipulator end could be moved on horizontal plane below the trellis at a constant speed under CP control. The length of the arm was 1.6 m, and the stroke was 1 m. In our laboratory, a harvesting end-effector (Fig.2), a berry thinning end-effector, a bagging end-effector, and a spray nozzle were attached to the manipulator end and experimented. This robot was a larger than the tomato harvesting robot and its mass was about 200kg. A crawler type traveling device was prepared for mounting the robot.

---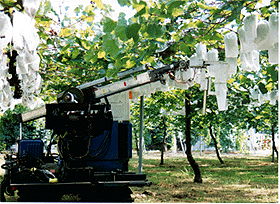 Fig.1 Multi-operation robot for grapevine (Bagging operation).

Fig.2 Harvesting end-effector.
---
Tomato and cherry tomato harvesting robot
Cucumber harvesting robot
Strawberry harvesting robots
Multi-operation robot for grapevine
Safety system for agricultural robot
Chrysanthemum cutting sticking robot
Weed Detection in lawn field
Plant diagnosis system
Quality Evaluation for agricultural products
List of Recent English Publications in Laboratory of Agricultural Systems Engineering
---
Menu page
Top page (English)
Top page (Japanese)